Project Overview
UVConcepts is an established start up in the healthcare space. They were in need of a brand refresh and improved brand strategy. After an agency vetting search process, Atomic Idea was chosen for the brand strategy work. The task was to review, analyze and refresh the brand from strategy and messaging to identity. Atomic Idea took the UVconcepts founders through a brand workshop session and complete strategy process.
Atomic Strategy
The Atomic Idea brand strategy process led to creating a complete brand messaging platform with Brand Story, Promise, Distinctions, Target Audience, and a refreshed color palette with mood boards. All of the brand, messaging and identity was applied to a new website, sales and marketing materials plus social media posts. Atomic Idea handles social media and SEO for UVconcepts.
Original logo and colors
New Brand Style Guide and Messaging
New Logo Development
Website Development
Website Design with better flow and animated graphics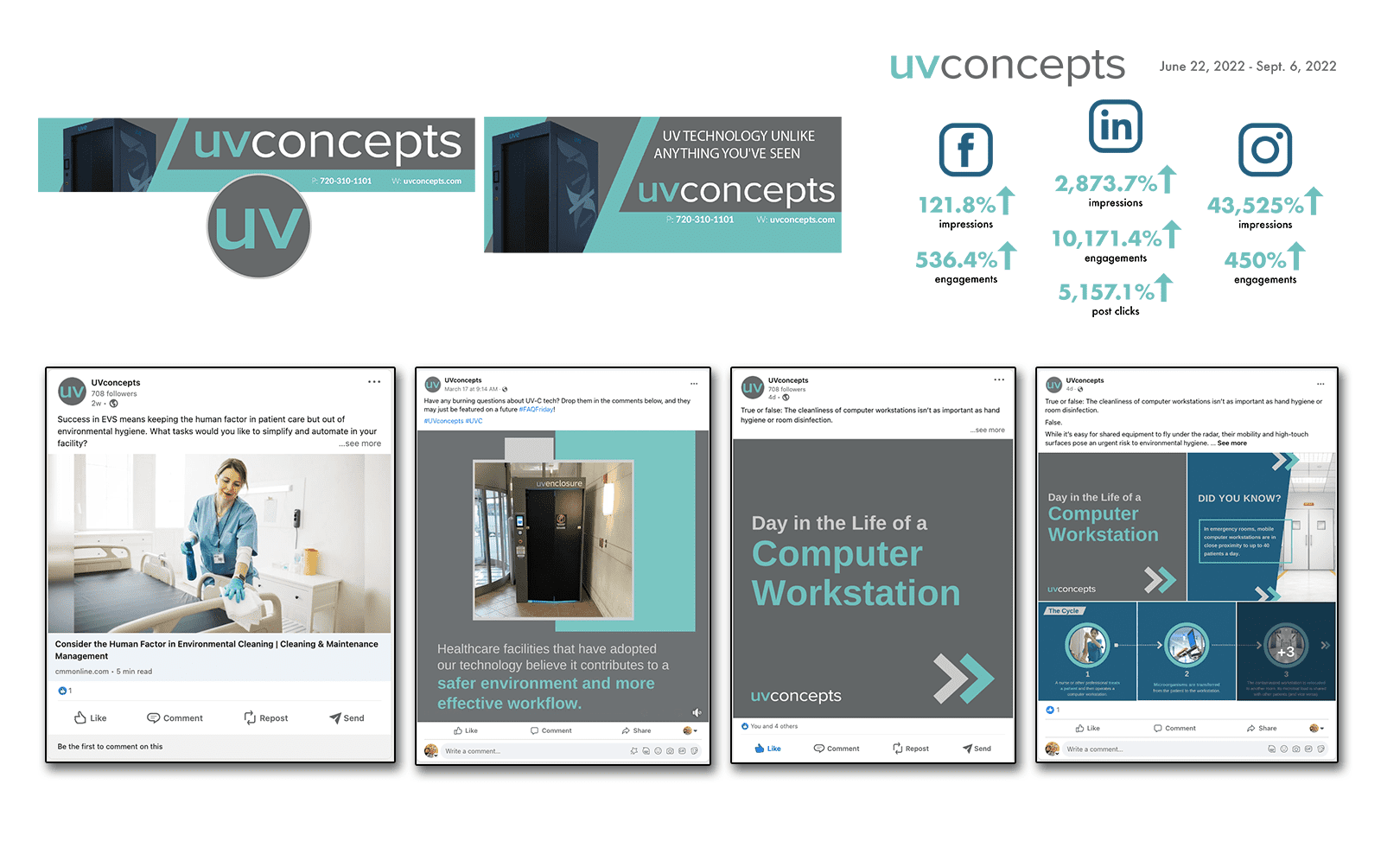 Social Media Campaigns and Strategy
On Set Video Production
Powerful Results
UVconcepts was very happy with the work we did on the brand refresh. They really appreciated our process and ability to understand their brand, ultimately bringing it to the next level. The initial project has led to UVconcepts hiring Atomic Idea as their agency of record, acting as the UVconcepts outsourced marketing team. Since early 2022 Atomic Idea has been handling everything including social media, website development and management, SEO, SEM/PPC, and sales/marketing collateral. Atomic Idea really took the time to invest in understanding our business. As a result, they really curated our brand discovery workshop process to bring out our best!
CONNECT WITH US TODAY
At Atomic Idea, you'll work with one of the best brand and marketing teams in Colorado.