Project Overview
CTSI provides Colorado counties with alternative risk management and other technical services that are progressive, competitive and cost-effective. CTSI was seeking an agency partner to refresh/rebuild their website. They desired a more visually impactful design, a cleaner and simpler user experience, plus a better way to organize the content and videos.
Atomic Strategy
After some analysis, we felt the CTSI brand was outdated and dull. It lacked connection to their core audience and did not speak to their strengths. Visually the brand was expressed in a non-engaging way, and lacked visual interest.
Atomic Idea, suggested that CTSI needed to address the brand before jumping into a website redevelopment. We felt that this would provide the best foundation to successfully build a new website that met their needs and reflected their brand. Atomic Idea proposed a brand discovery and refresh phase, including the color palette, visuals and brand presence. This would give us a strong foundation to build the new website upon.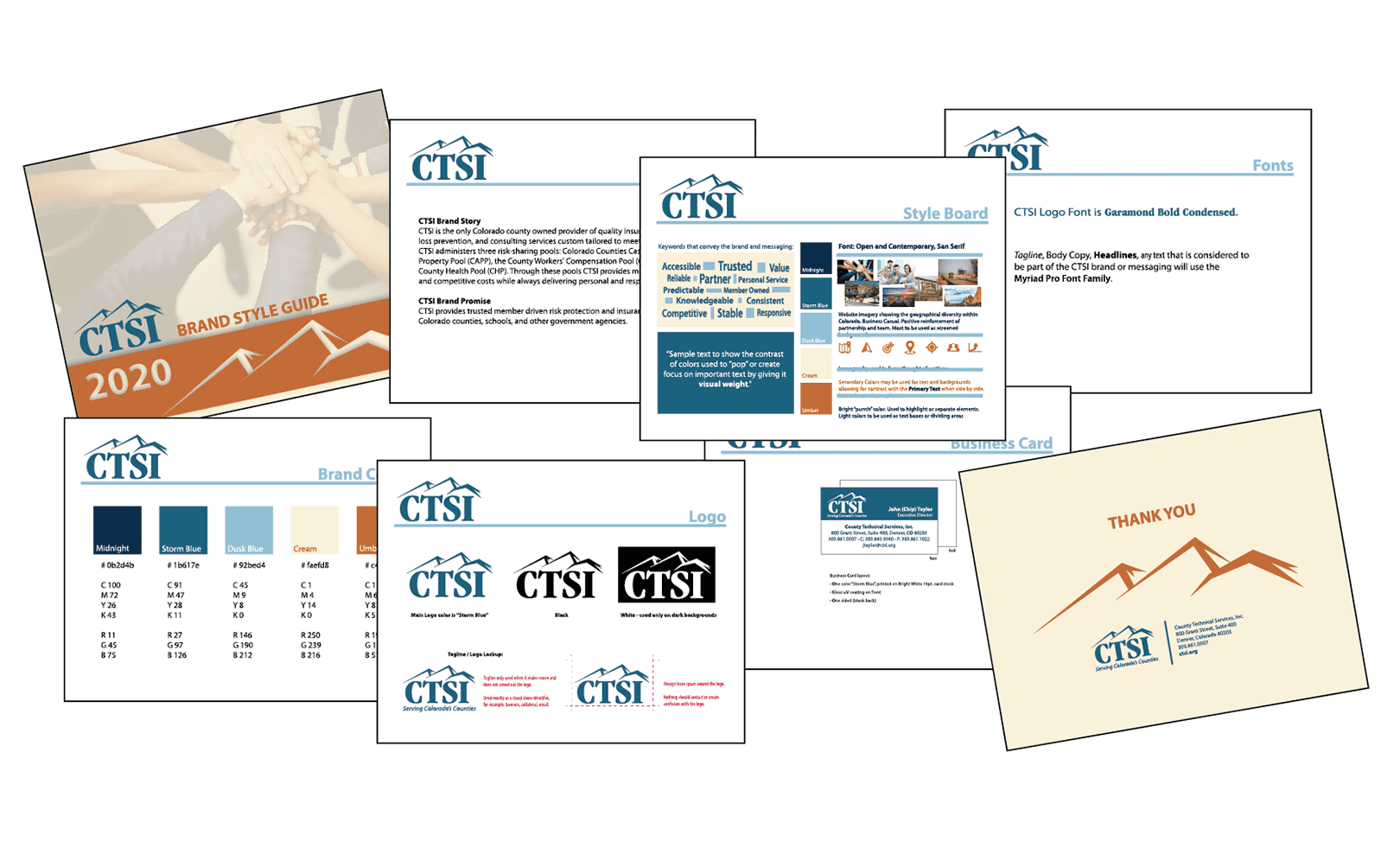 Brand Style Guide
New Website
Powerful Results
Atomic Idea worked with CTSI to develop the brand story, promise and messaging. In addition, we refreshed the logo and provided a brand style guide. We designed and developed the new CTSI website with a process consisting of a discovery meeting, personas, wireframes and user flows, design and final programming. One of the main complaints of the old website was the inability to find needed information, and the confusing navigation. We worked with CTSI to eliminate those issues.
The new CTSI website is more modern and provides a better user experience. We addressed the issue of content overload, which had caused users to get "lost" on the website. We created wireframes and user personas to better understand the needs of the users and how to design the website to best provide the content they need. The new design follows the brand refresh Atomic Idea completed and gives the website a modern and clean feel. Atomic Idea assisted us with a minor brand identity refresh and a complete redo of our website. We found the communication engaging in every step of the process. They were respectful of our point of view but still able to show how a refresh of certain areas would be more attractive to our audience.
CONNECT WITH US TODAY
At Atomic Idea, you'll work with one of the best brand and marketing teams in Colorado.