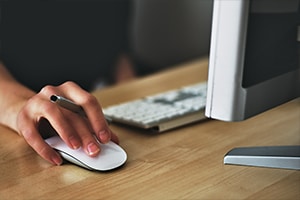 You have probably heard the term "user friendly" tossed around during web design sessions, but what does that actually mean?
Let's illustrate: Have you ever been given a recipe to follow? If those directions are clear, step-by-step, and easy to follow, that recipe is "user friendly." However, if the directions are vague, or the recipe is missing steps, then you will have a tough time accomplishing the task. In this case, said recipe is not user-friendly.
When it comes to your website, you want visitors and users to easily find what they need and have a clear path to the information they seek. Most importantly, it should be simple for them to interact with you. Users are seeking the path of least resistance, and there are many other websites competing for their attention. So, if your site is not user-friendly, you could be losing out on valuable traffic. You can optimize your user experience in the following ways:
Speak to your primary audiences. Users are more likely to engage with a website that is tailored to their circumstances and needs. When you take the time to understand and speak to your primary audience, your site will become user-friendly where it counts.
Web pages should balance succinct copy with appealing, branded visual imagery. According to Adobe, 59% of people would rather spend fifteen minutes reading something "beautifully designed" than something "simple and plain." So, even if the nature of your business necessitates a content-heavy website, your layout still needs an eye-catching combination of concise text and appealing images.
The main navigation should be prominent and simple to understand. No matter how beautiful your website looks, visitors will be quick to bounce if the content is nested (read: hidden) in endless dropdown menus. The solution? Don't make your visitor have to search for information. Feature the most important content near the top of the page, and provide a clear path to other areas of the website.
Remember to include a call to action. The end goal is conversion, after all. Descriptive and strategically placed CTAs make it easy for visitors to interact with your brand–whether that's contacting you for a quote or downloading the latest whitepaper. Without an appropriate prompt, users will be forced to take their own action (i.e. moving on to a competitor's website).
Don't forget about mobile. Statista found that over 50% of global website traffic has occurred on mobile devices since 2020. Moreover, 67% of users say they're more likely to make a purchase from a company whose site is optimized for mobile (WebFX). In other words, mobile web traffic isn't just sizable; it's powerful. You can cater to this large pool of potential customers (and improve your rankings on Google, according to Search Engine Journal) by ensuring that your web design is just as responsive on mobile as on desktop. This doesn't mean that the two layouts should look the same, but that together they provide a seamless experience.
Yes, there is much more to a website than just striking creative or engaging copy. For a website to be successful and user-friendly, it needs to strategically balance visuals and text, understand its primary audience, and provide a clear path.
The website is your store front, and often people are just window shopping. They browse websites to gain more information and narrow down their choices before engaging with a company or purchasing a product. So, ask yourself: Is my website window displaying the right information, visuals, product details, and company information? Is it promoting engagement?
Remember: You want the visitor to take action, whether it's to submit a contact form, call you, or make a purchase. All of these happen more often when you make it easy for the visitor.